Over four years of peace talks with the Colombian government, the country's FARC rebels bargained for the best deal possible — and one that could convince their troops that the past half-century of guerrilla warfare wasn't for nothing. But in wresting significant concessions from the government, including a launchpad into politics and a chance to skirt prison, the rebels have run the risk of sweetening their deal so much that Colombians won't stomach it.
This was perhaps the key masterstroke of President Juan Manuel Santos's insistence that the peace deal be contingent on Colombian voter approval. He has set that vote, formally a "plebiscite," for Oct 2. The entire deal is riding on the outcome.
Santos and his negotiating team have long warned Colombians that peace would have a price, as well as a heavy dose of what Colombians call "toad swallowing," i.e. bitter medicine. The government insists it has secured the best deal possible with the guerrillas, and with the accords now finalized there will be no chance of making revisions. If voters reject the agreement, the pact crumbles and the war will resume.
Source: The paradox of Colombia's peace deal for FARC – The Washington Post
SEE ALSO:
Hundreds of Colombians have celebrated an historic peace accord between the government and left-wing Farc rebels, signed after 52 years of conflict.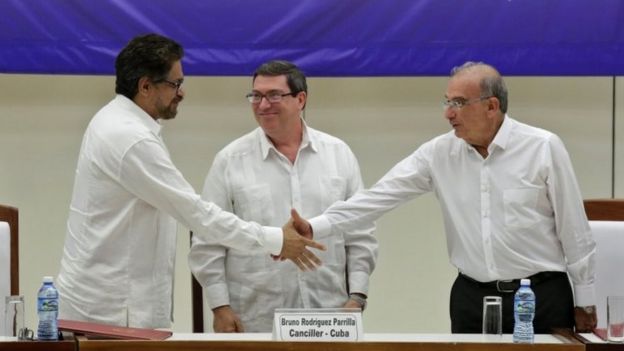 The announcement was broadcast live on Wednesday from Havana, Cuba, where peace talks have been held for almost four years.
The conflict has killed an estimated 260,000 people and displaced millions.
President Juan Manuel Santos called the deal "the beginning of the end to the suffering, pain and tragedy of war".
Source: Colombians celebrate as peace deal is reached with Farc rebels – BBC News