In a series of written questions presented by Dutch MPs to the government, the majority of political parties have reaffirmed their support for the start of negotiations of a new legally binding instrument to prohibit nuclear weapons and lead to their elimination. The moment for Dutch Foreign Minister Koenders to act is now: at the UN General Assembly (UNGA), a resolution (L.41) was submitted by over 30 States to negotiate an international treaty prohibiting nuclear weapons in 2017, and the vote will take place at the end of this month.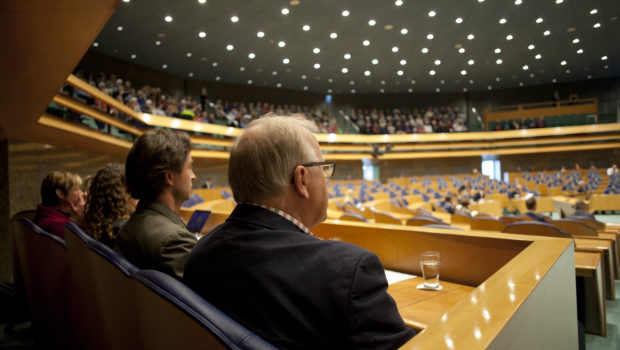 The parliament went on to ask if the government is willing to be a co-sponsor of this resolution to start negotiations on a new treaty banning nuclear weapons in 2017, and if not, why not- especially given the motions passed by the majority of parliament. These motions clearly called on the government to support the start of negotiations on a treaty to prohibit nuclear weapons leading to their elimination (Servaes et al) and to participate actively in such negotiations (Sjoerdsma).
Recognizing that the vote will be coming soon, Parliamentarians requested a response from government on these questions by 21 October. (We will post an update as soon as the responses are available.)
Source: Dutch parliament to government: Vote yes to start negotiations on a nuclear ban – No Nukes Netherlands
SEE ALSO:
Start negotiations on a total, worldwide ban on all nuclear weapons. A resolution calling for such negotiations has been submitted to the United Nations General Assembly. Later this month, the UN body is expected to pass this resolution. When it does, it will make history, bringing a global nuclear weapons ban a step closer to becoming reality.
Freek Landmeter: "Parliament wants a global ban, a majority of the Dutch public wants to be rid of nuclear weapons, just like most UN member states. The government has always voiced its support for a nuclear-weapons-free world. The Netherlands now has the chance to join the majority of countries who want to move forward and ban these weapons. The government can't let this unique chance pass by." Twenty US nuclear missiles are to this day stationed at the Dutch Volkel air base.
Source: UN resolution calls for a nuclear weapons ban – No Nukes Netherlands