Join us on March 18 at 7 p.m., for a conversation with Daniel Ellsberg about his book, The Doomsday Machine: Confessions of a Nuclear War Planner. "The father of American whistle-blowing," as Edward Snowden calls him, Daniel Ellsberg has served as consultant to the White House, and has drafted U.S. plans for nuclear war.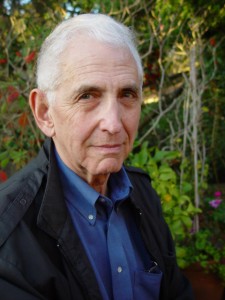 Daniel Ellsberg as White House consultant, was an inside player during the Cold War, the nuclear arms race, the Cuban Missile Crisis, and more. His unique perspective can inform and empower us, as the current nuclear arsenal is larger than ever. Even with a nuclear arsenal that can destroy our global population many times over, hundreds of billions more of our tax dollars are being wasted on new nuclear weapons. Register here!
Ellsberg performed a great public service when he released the Pentagon Papers, and risked his freedom to do so. Once again, Daniel Ellsberg performs an invaluable public service by giving us a window inside U.S. nuclear war planning, which is far more destructive, genocidal and suicidal than the public ever knew.
This book talk is sponsored by Massachusetts Peace Action, Maine Peace Action, New Hampshire Peace Action, Maryland Peace Action, Western New York Peace Center, Chicago Area Peace Action, the Coalition for Peace Action, and New Jersey Peace Action.